We love to highlight companies, projects, and products that are in line with our mission to empower women and menstruators! See some of our favorites highlighted below! Check back often as we will add more!
Lady Box
Lady Box is an organic period self-care subscription box delivering empowerment, delight and shedding the shame surrounding menstruation. This is a great gift for women or menstruators in your life, or for an awesome self care moment.

Use Coupon Code: THEAGENDA to save on your purchase of a box or subscription!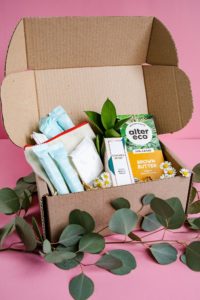 Shed the Shame with Lady Box
Shed the Shame is a campaign to help to dismantle the taboo surrounding periods and women's health. From Menstrual Hygiene Day, May 28th, 2021 through World Toilet Day, November 19th, 2021 , Lady Box will donate funds in support of the lifesaving work that WaterAid provides in over 30 countries.
Hart Skin Care
Reconnect with your feminine essence with this set of oil cleansers – formulated to work with the skin as it changes during each phase of the menstrual cycle.
Also suitable for help reconnecting with the lunar cycle, for seasonal skincare cycling & for intuitive skincare for all people.
Funk It Wellness
Funk It's Seed Cycling Kit includes everything you need to get started on your seed cycling journey. Seed Cycling uses organic pumpkin + flax seeds for the first ½ of your cycle (menstrual + follicular) & organic sesame + sunflower seeds for the second ½ of your cycle (Ovulatory + Luteal). When used consistently, seed cycling has been shown to decrease hormonal acne, support irregular cycles, fight bloating and fatigue, and support general PMS.
Have any suggestions for products, companies, or people we should connect with? Email us at [email protected]!