Period Products we love!
We love to highlight companies, projects, and period products that are in line with our mission to empower women and menstruators! See some of our favorites highlighted below! If you know of any period products you love, put them in the comments below for everyone to know about!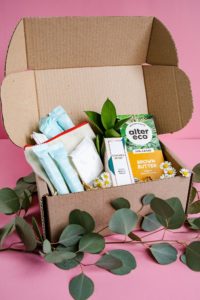 My Comma Box
My Comma is an organic period self-care subscription box delivering empowerment, delight, and shedding the shame surrounding menstruation. This is a great gift for women or menstruators in your life, or for an awesome self-care moment. They have three box tiers: an essentials box for $35 a month, Delectables for $65 or a Luxe box for when you are feeling in need of some decadence for $85 a month.
My Comma also has a shop on their website and sells My Period underwear on their site for $12 a pair. These period undies are soft, comfy, and come in daring black, forest green, or a garnet rose! My favorite thing on their site is their first-period box. This box is perfect for the young menstruator in your life, so they feel ready for when their period comes. The first-period box comes with pads, stain remover, an info booklet, snacks and more! A subscription to the Agenda. app could also be a great gift for someone who just started bleeding.

Use Coupon Code: THEAGENDA to save on your purchase of a box or subscription!
Hart Skincare
Hart Skincare is vegan, 100% natural, and cruelty-free. As a holistic company located in Austraila they package their product beautifully and help you reconnect with your feminine essence. Their items are formulated to work with the skin as it changes during each phase of the menstrual cycle.
We at Agenda. are always in awe of the different organizations working together to uplift women around the world. You can rest easy knowing Hart Skincare is doing that, with 10% of their profits from the Cycle Cleansing Collection going to Share the Dignity.
Their Cycle Cleansing Collection is in stunning bottles, helping you reconnect with the lunar cycle. Use this collection for seasonal skincare cycling and for intuitive skincare for all people.
Funk It Wellness
Funk It's Seed Cycling Kit includes everything you need to get started on your seed cycling journey. Seed Cycling uses organic pumpkin + flax seeds for the first half of your cycle & organic sesame + sunflower seeds for the second half of your cycle. When used consistently, seed cycling has been shown to decrease hormonal acne, support irregular cycles, fight bloating and fatigue, and support general PMS.
Don't know what seed cycling is? Funk It shares, "Seed cycling is as easy as tracking your cycle, choosing your seed blend, and eating 2 TBSP of corresponding seeds per day. You can eat your seeds on all of the foods you already are eating, just think of them as a hormone-friendly boost. Not sure where you are in your cycle? Check out the chart on the back of your bag!"
Funk It also has an amazing "This is my Funking Period T-Shirt", that makes us smile. It is the perfect comfy shirt to wear on period days where all you want is chocolate, reruns of Vampire Diaries, and a hot pad.
Have any suggestions for products, companies, or people we should connect with? Email us at [email protected]!