Menstrual Phases Quick Guide
Here is a quick guide to your 4 phases! This handy table will help you explore the different feelings and actions of each phase. Also, you can use this as a cheat sheet to approximate what phase you are in. Para leer este artículo en español haga clic aquí.
Just a reminder: The suggestions in the post are possible ways you may be feeling. There is no wrong or right way to feel. Use this as a guide, but know that your body is the ultimate authority!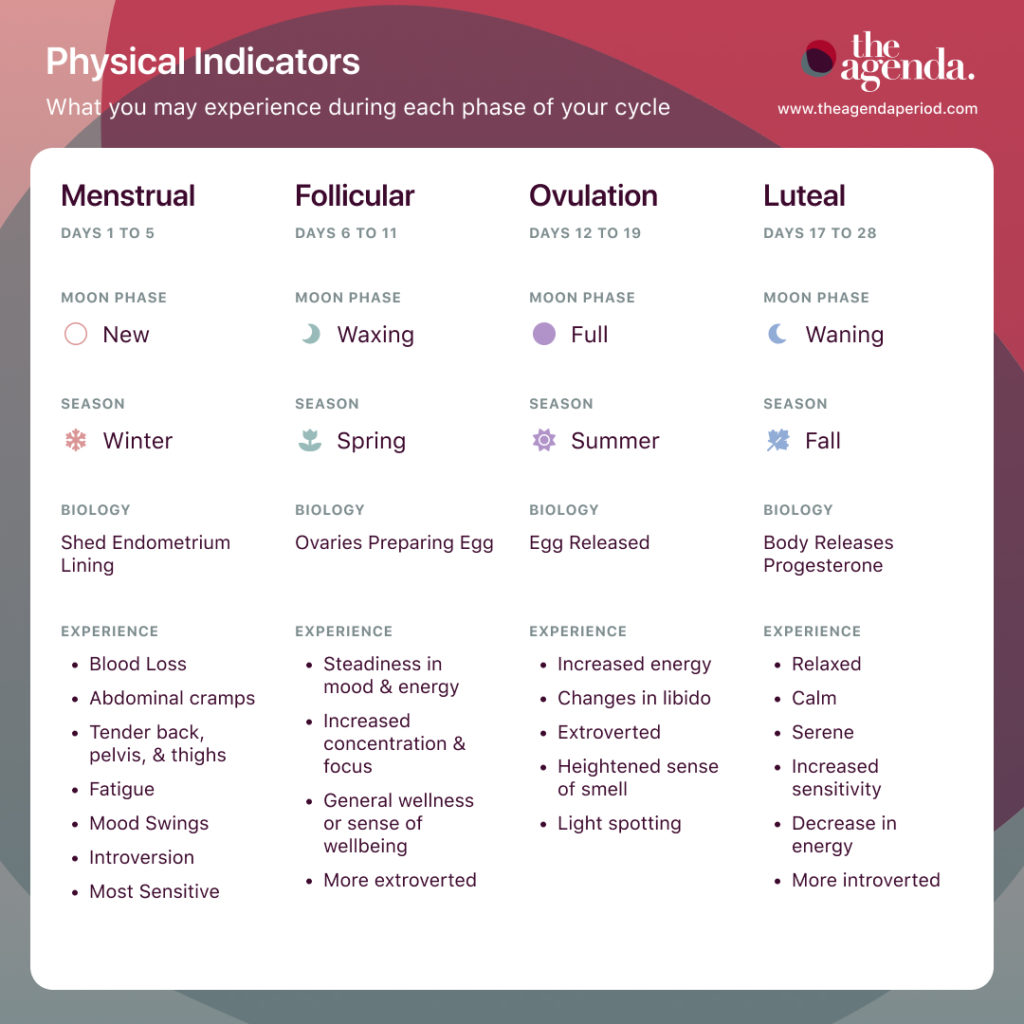 Jump to any of the phases below to see their overviews. Find Deep Dives on each phase at the bottom of this post.
Menstrual Phase Overview
Follicular Phase Overview
Ovulation Phase Overview
Luteal Phase Overview
Menstrual Phase
Moon Phase:
New Moon
Season:
Winter
Approx. Cycle Days:
1 to 5
Physical:
Shed Endometrium Lining
Experience:
Blood Loss
Abdominal cramps
Tender back, pelvis, & thighs
Fatigue
Mood Swings
Introversion
Most Sensitive
Actions that Honor your Phase:
Observe unseen aspects of yourself and bring them into the light for healing and integration.
Release and let go of what is not serving you.
Rest
Journal
Ritual
Meditation
Prayer
Qualities:
Introspective
Wise
Integrative
Inactive/Inert
Cleansing
Restful
Quiet
Contracting
Introverted
Prayerful
Spiritual
Revealing
Deep
Aware
Perceptive
Present
Releasing
Bleeding
Sensitive
Cycle of Creation: Planning
Suggested Business Tasks:
Planning
Brainstorming
Intuition
Plans for virtual assistant or employee
Let go of what doesn't serve you
Ideas to improve business
Create vision for cycle
Brainstorm collab partners
Create presentations
Schedule meetings and events
Welcome packets
Create Opt-Ins
Mapping steps
Creative Projects
Writing Copy
Scheduling your upcoming cycle
Analyzing where each phase falls
Jump back to the top of page.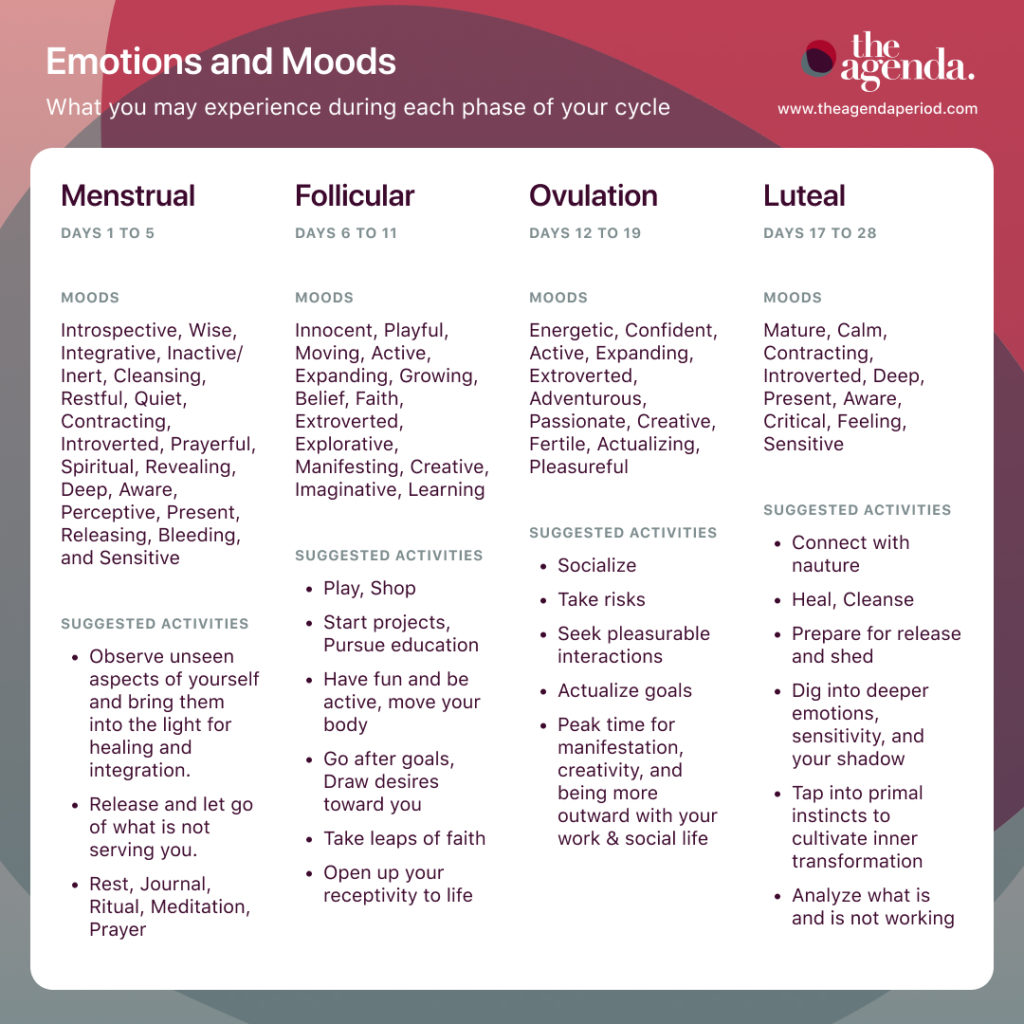 Follicular Phase
Moon Phase:
Waxing Moon
Season:
Spring
Approx. Cycle Days:
6 to 11
Physical:
Ovaries Preparing Egg
Experience:
Steadiness in mood & energy
Increased concentration & focus
General wellness or sense of wellbeing
More extroverted
Actions that Honor your Phase:
Play
Shop
Start projects
Persue education
Have fun and be active
Move your body
Go after goals
Take leaps of faith
Open up your receptivity to life,
Draw desires toward you
Qualities:
Innocent
Playful
Moving
Active
Expanding
Growing
Belief
Faith
Extroverted
Explorative
Manifesting
Creative
Imaginative
Learning
Suggested Business Tasks:
Start new projects
Networking events
Meetings
Learning
Training
Making phone calls
Launching programs
Updating email list
Posting on social media
Live videos
Meetings with collab partners
Drop off business cards
Give presentations
Schedule posts
Post videos to YouTube
Send emails
Online challenges/summits
Jump back to the top of page.
Ovulation Phase
Moon Phase:
Full Moon
Season:
Summer
Approx. Cycle Days:
12 to 19
Physical:
Egg Released
Experience:
Increased energy
Changes in libido
Extroverted
Heightened sense of smell
Light spotting
Actions that Honor your Phase:
Socialize
Take risks
Seek pleasurable interactions
Actualize goals
Peak time for manifestation, creativity, and being more outward with your work & social life.
Qualities:
Energetic
Confident
Active
Expanding
Extroverted
Adventurous
Passionate
Creative
Fertile
Actualizing
Pleasureful
Cycle of Creation: Manifesting
Suggested Business Tasks:
Live videos with call to action
Speaking engagements
Recording videos for programs
Sales calls
Raising prices
Follow up with prospects
Collaboration
Tackling projects you are afraid of
Leading meetings
Getting pictures or headshots taken
Events
Jump back to the top of page.
Luteal Phase
Moon Phase:
Waning Moon
Season:
Fall
Approx. Cycle Days:
17 to 28
Physical:
Body Releases Progesterone
Experience:
Relaxed
Calm
Serene
Increased sensitivity
Decrease in energy
More introverted
Actions that Honor your Phase:
Connect with nauture
Heal
Cleanse
Prepare for release and shed
Dig into deeper emotions, sensitivity, and your shadow
Tap into primal instincts to cultivate inner transformation
Analyze what is and is not working
Qualities:
Mature
Calm
Contracting
Introverted
Deep
Present
Aware
Critical
Feeling
Sensitive
Cycle of Creation: Analyzing
Suggested Business Tasks:
Administrative tasks
Accounting
Scheduling
Organizing paperwork
Wrap up projects
Analyze social media and website insights
Cleaning
Reorganizing
Redecorating
Filing
Analyzing what did and did not go well this cycle
Jump back to the top of page.
Check out a Deep Dive on each phase below:
Learn about business and the 4 phases too!

Ready to take your knowledge to the next level? Join our Facebook Community!